0.4 is the fourth level in Thomas was Alone.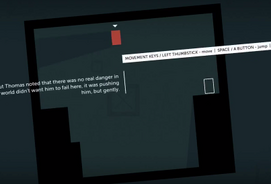 A big jump. But Thomas noted that there was no real danger in missing it. The world didn't want him to fail here, it was pushing him, but gently.
Characters
Edit
Ad blocker interference detected!
Wikia is a free-to-use site that makes money from advertising. We have a modified experience for viewers using ad blockers

Wikia is not accessible if you've made further modifications. Remove the custom ad blocker rule(s) and the page will load as expected.